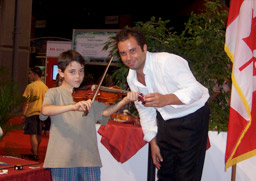 As a teacher and advisor, Francois developed over the years his own method of teaching/learning from his previous teacher/master's thoughts and philosophy such as: Ivry Gitlis, Gerard Poulet, Calvin Sieb, Mauricio Fuchs and others who have their own different approach related to violin teaching techniques.
It is not presumptuous to pretend that Francois managed to capture the very essence of each and every of his masters to build upon an approach based on a relaxed harmony of the body and the soul. Keeping a cold head and a warm hart is essential to be available to Music claimed his teachers.
Forever music has been the vehicle for human kind to communicate. Sounds were the basic to help convey emotion. Nowadays, music is livelier and diverse as ever and is an integral part of our daily lives. One could hardly live and be happy without it.
Through its own playing and teaching Francois demonstrates that music is a language; a form of expression accessible to all.